Kawasaki is setting a new standard for the small-to-medium payload sector of the robotics industry.  If you are looking for a superior robotic solution, and still need the edge of industry leading value and support, the Kawasaki RSo07N is for you.
Longest Reach in the Industry Segment
The RSo07 has the longest reach of any robot from any manufacturer in its class.  This means more applications are valid, more problems, can be solved, and more value is achieved.  Sending that value right to the bottom line and making for a more attractive ROI is only part of the charm this new robot offers.
Overdrive Feature
The RSo07 features a new function called "overdrive".  In nearly every robotic application, there exists a time in the cycle where the robot is handling a part and a time when it is not.  Traditionally, the robot has moved at about the same speed through the cycle, whether it was carrying a part or not.  Well, there was room for improvement there and the RSo07 has an answer: overdrive.  Using the overdrive function, the Kawasaki RSo07 can be programmed to move at speeds up the 3x of normal when not carrying a payload, other than the EOAT.  When cycle times are counted in seconds, this is a huge advantage.
New F-Series Controller
The RS07 pairs perfectly with Kawasaki's new F-Series controller.  Utilizing the smallest footprint and lightest weight in the industry, this controller is setting new expectations from users.  The lightweight and small footprint allow for installation in high-density applications.  The controller can be stored in an upright or stacked configuration, adding to the ways that you can choose to save space.
Simple and Friendly
Kawasaki Robotics made their name with two things: providing value-rich robots that are simple to use, and backing them up with unsurpassed customer service.  The RS0o7 is a proud flag-bearer for those standards.  When you purchase a Kawasaki, you are purchasing a partnership for life.  Not only will you find the intuitive and simple teaching functions easy to learn and program, but Kawasaki was founded on support.  The personal attention that their staff offer to users is unlike anything else in the industry today.  You have every reason to explore a Kawasaki robot today. Click the link below to download the brochure.
Some quick specs on the RSo07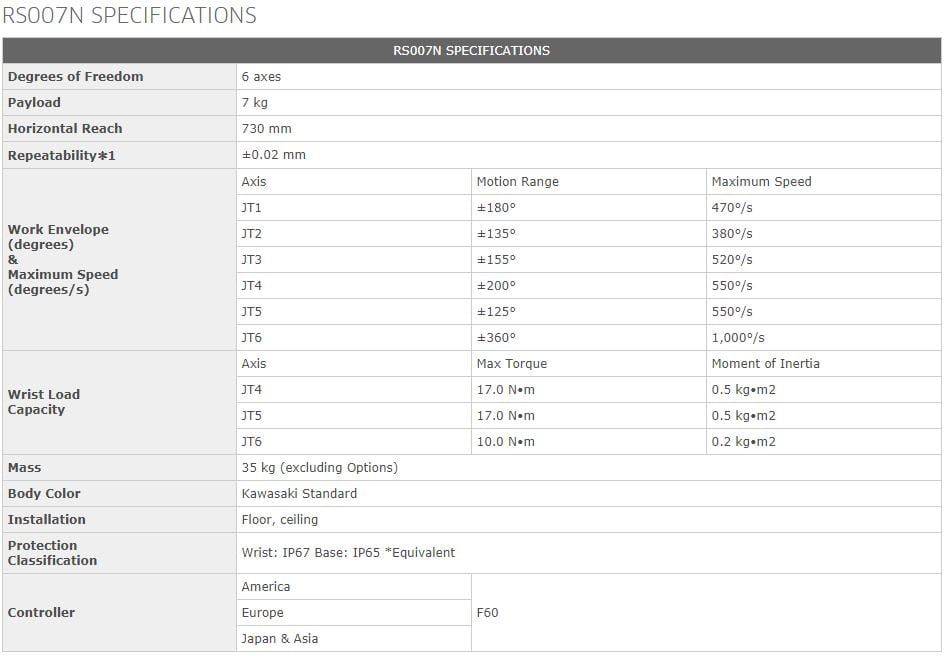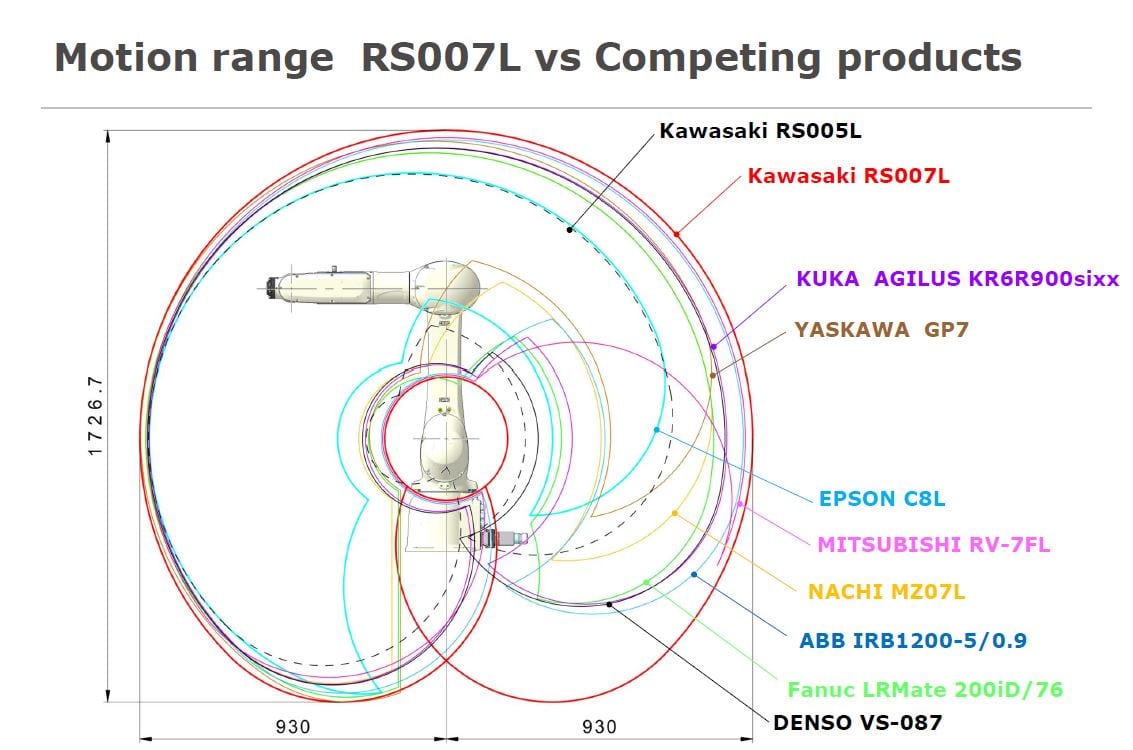 Where to use the RS007
The RS007 is extremely versatile.  Viable in nearly any industry, this robot can be adapted for assembly, pick and place, machine tending, packaging, and more.  So long as the payload and reach are within range, this robot can shine.
Contact us to evaluate your application and see if a new RS007 is right for you!