Medical and Pharmaceutical – Meet your new Rx.
If you are in the medical or pharmaceutical industry, the Kawasaki MC004N clean robot is the not-well-known-enough solution you need to hear about.  This clean robot helps prevent human errors, contamination risks, and exposure to high potency pharmaceutical ingredients such as anti-cancer drugs.  This robot meets the healthcare industry's processing equipment specs for accuracy, consistency, and cleanliness.
Where to use it???
This robot is ideal for several applications that require a clean robot.  Some of the most popular are:
Assembly
Dispensing
Inspection
Material handling
More Features for a Demanding Industry
All stainless steel available

vapor hydrogen peroxide (VHP) – resistant

Flexible range of motion

Can move in narrow spaces with 7-axis configuration

Sanitary feature

Easy-to-clean smooth surface to prevent contamination

Clean classification

ISO class 5 (Fed – Class 100)

Built-in hand cable

Built-in cable technology frees it from interference with other equipment
Critical Specs
Payload: 4 kg
Horizontal reach: 505.8 mm
Repeatability: +/- 0.05 mm
Mass: 25 kg (excluding options)
IP67 wrist IP65 base
Controller: Kawasaki F60
Models Available
The MC004 is offered in two different versions, the N and the V.  The N is an epoxy coated robot that is suitable for general dispensing in a clean room environment.  This unit meets all of the above mentioned criteria with the exception of a stainless steel surface.  This is the workhorse for applications that do not require sterilization by VHP gas.  The MC004V meets all of the above criteria, but with an added metal plating to withstand VHP sterilization.
Two Options for VHP Sterilization Capability
While the MC004V is configured for VHP sterilization, Kawasaki offers another robot with the same feature, but with a bend toward increased flexibility.  The MS005N has all of the features mentioned previously, but with a completely stainless steel outer body.  The 5N also has a greater reach at 660 mm, higher payload capacity at 5 kg, and increased flexibility with 7 axis standard configuration.  Please note that the 5N uses the Kawasaki E-series controller.
MS005N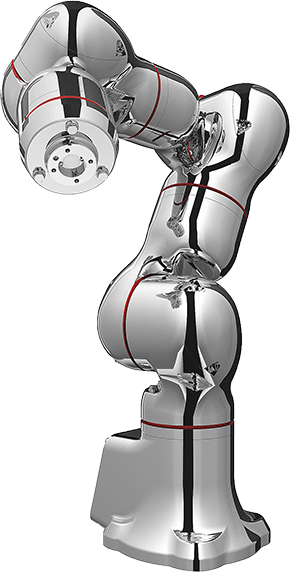 MC004N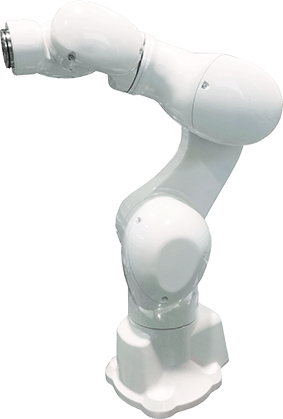 MC004V