The New F-Controller from Kawasaki is Shrinking the Competition
Kawasaki recently released the f-controller, the smallest and lightest controller in its class.  This new controller boasts impressive functionality and performance, in a package that is small and light enough to be held under the arm.  Compatible with R-series robots up to 10 kg payload capacity, as well as medical and pharmaceutical robots, this new controller adds some new features that users will be excited to get their hands on.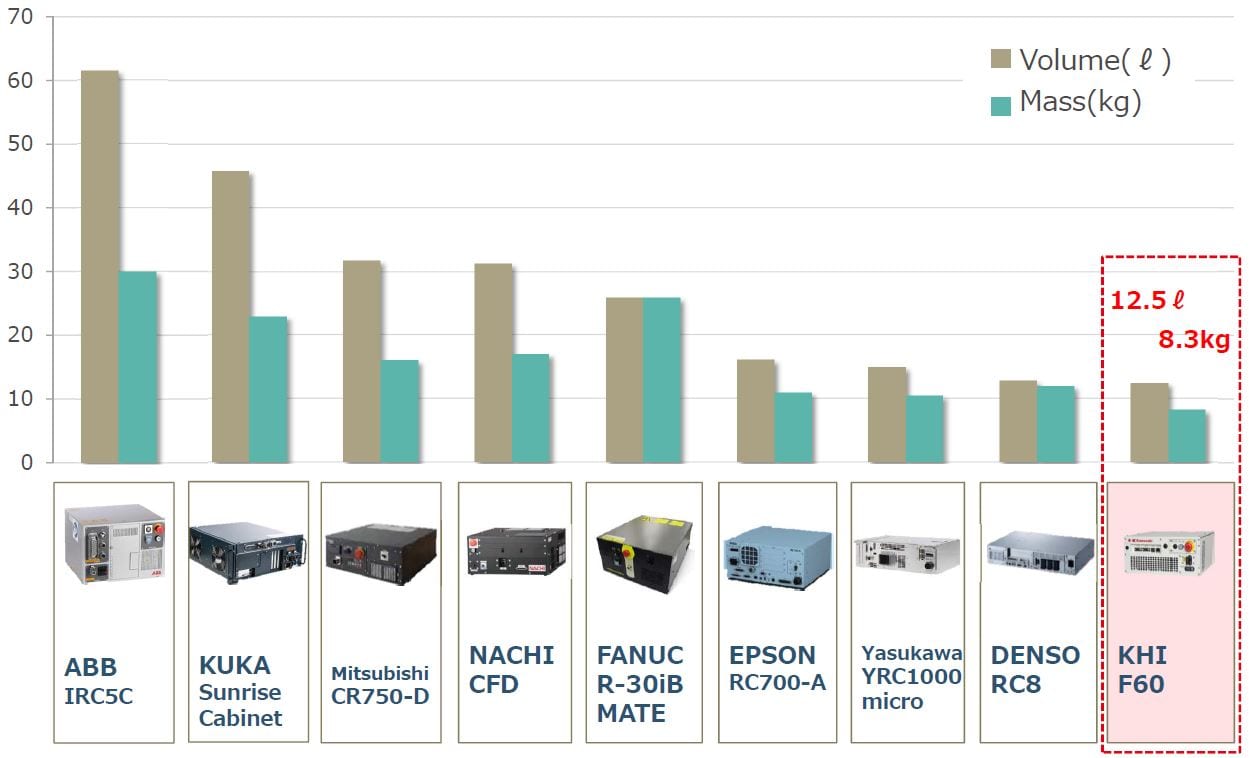 Lets talk Features
Size and weight are great, but you might be asking yourself: "what features am I losing to reduce all of that bulk?"  Good news, you're not going to lose any.  In fact, true to Kawasaki form, they wouldn't have made the change if you didn't get something more than you had before.  Some of the upgraded or expanded features of the f-controller are:
Enhanced network functionality
Energy savings capabilities
More options for inputs
Lets start with the enhanced network functionality.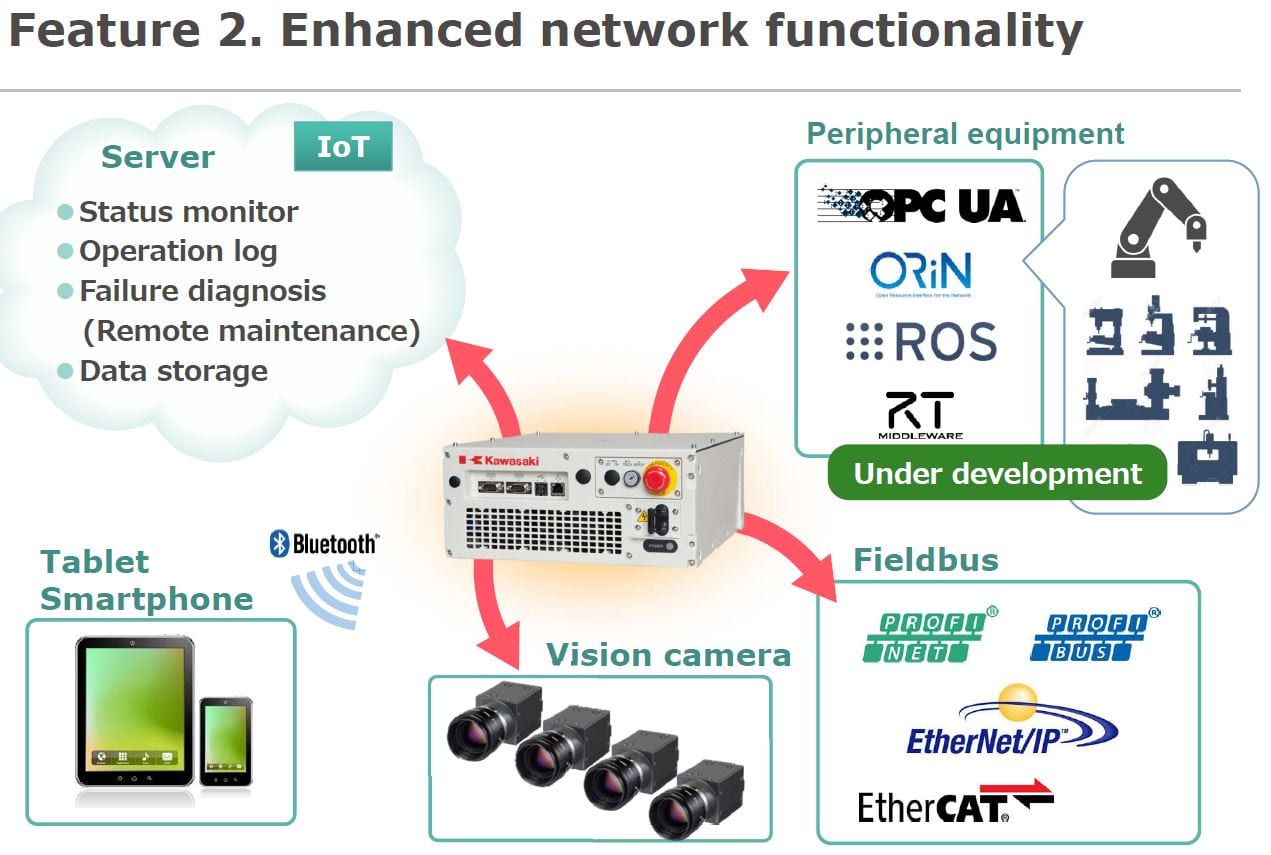 Kawasaki has beefed up the network features for the new f-controller.  Some of these features include:
Server connection through IoT
Bluetooth connectivity for tablet control and input
Vision system compatibility
Multiple communication protocols such as profitnet, EtherNet/IP, EtherCAT, and profibus, and more.
The new Bluetooth feature allows users to interface with the controller via smartphone or tablet, select a given robot on the network, and quickly execute programs or monitor status.  This features goes beyond having a "cool" app that will probably charge you for the premium version sooner or later.  This feature allows you to expand your workforce without adding to it.  By allowing users to interface with the robotic cell using a tablet or smartphone, you can limit the more in-depth robotics training to a handful of people instead of your whole maintenance or production staff.  Almost anyone can connect and get an idea of how the cell is performing, all while under the supervision of perhaps one highly trained in-house robot tech.  This follows just about every industry's direction right now: do more with less.
"This feature allows you to expand your workforce without adding to it"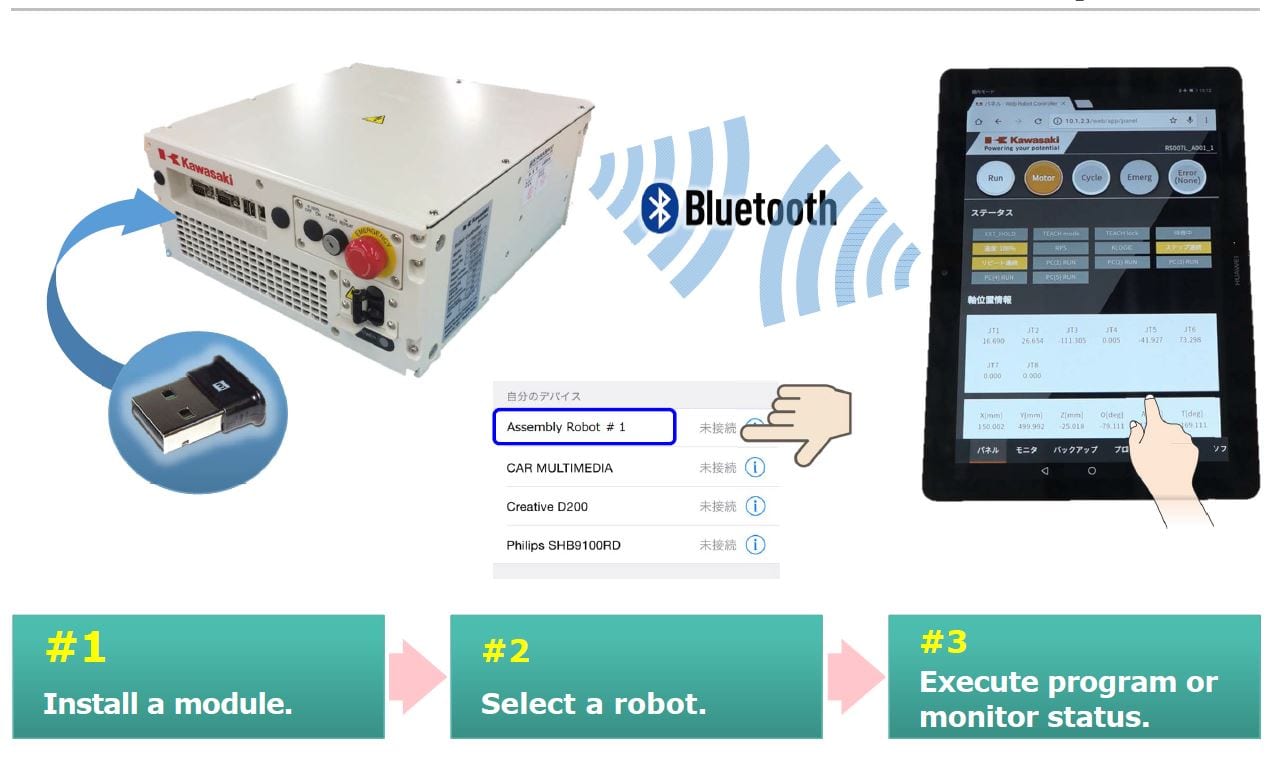 Giving you more Power and Saving more of it
The new f-controller has enhanced power saving and monitoring capabilities.  By reducing the number of electronic components and using regenerative power, power consumption has been reduced by 30% during standby and 10% during motion.  That's nothing to sneeze at.  In a day and age when utility bills only seem to be moving one direction – and represent pure overhead – those numbers are huge.  If an employee came to you and actually managed to capture those kinds of savings, they'd probably be in line for a promotion.
"Power consumption has been reduced 30% during standby and 10% during motion"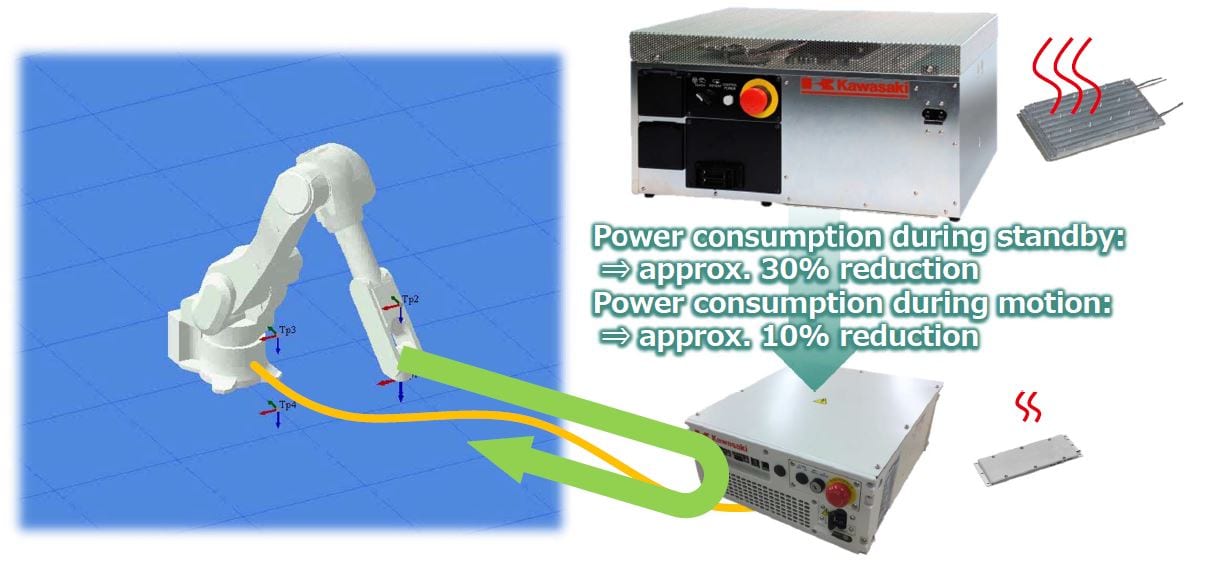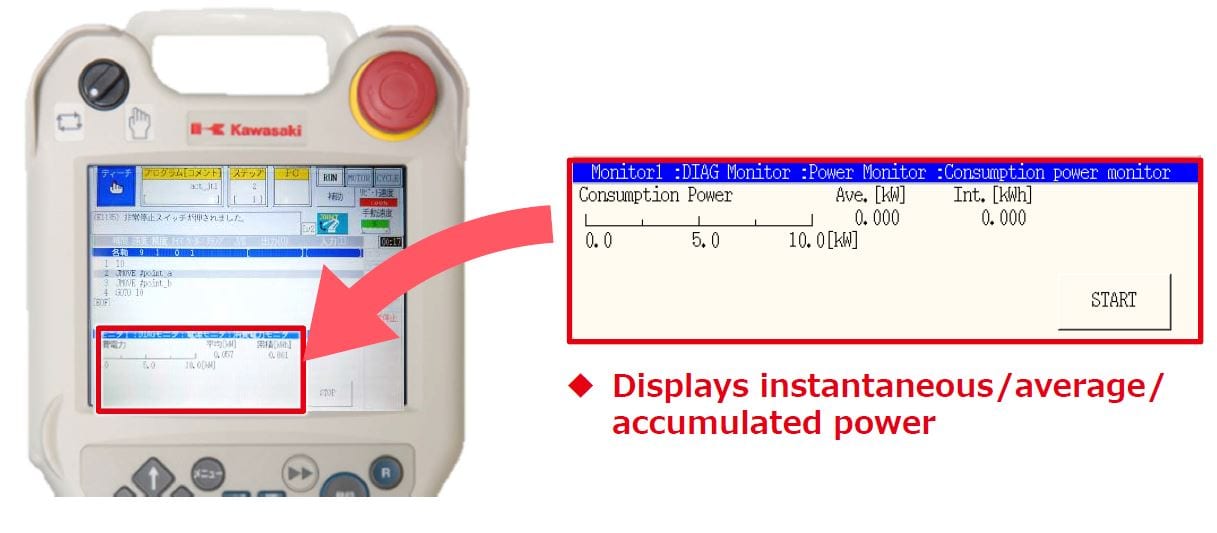 Built-in 2D Vision Function
Vision is an ever-growing field for robotic integrators and users alike.  We hear more and more requests for vision on a seemingly daily basis.  While there is still a long way to go in order to achieve much of what is perceived to be possible, Kawasaki is clearly thinking ahead here.  The new f-controller has a built-in 2D vision processing system that allows for connection of up to four GigE cameras.  This eliminates the need for an additional vision processor and allows the integrator to do the programming and set up right through the primary controller.  This streamlining of the programming process will save everyone money.  Just to put a cherry on top, they even made it so that you can see the images on the pendant.
"This streamlining of the programming process will save everyone money"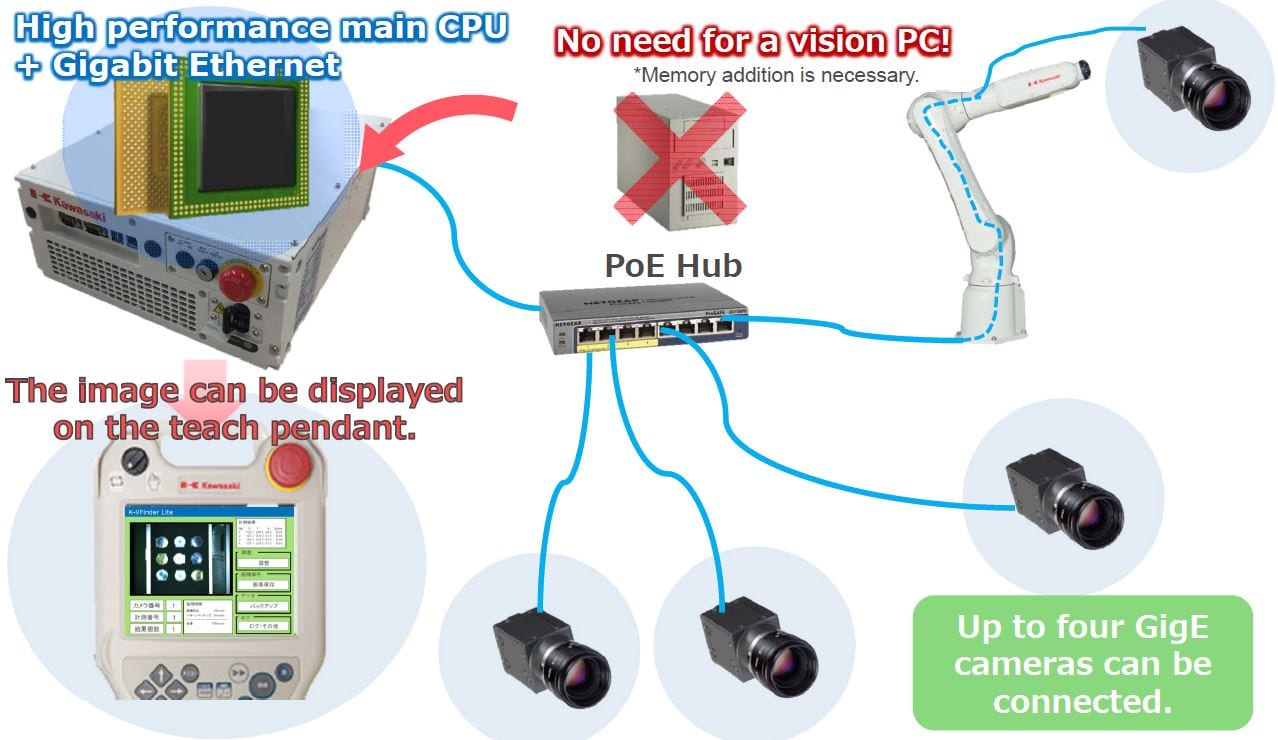 Bringing it all Home
So now that you know more about the advances Kawasaki is making, it's probably time to start taking a closer look.  These are features that are not just there for flash or chatter.  These features are designed to save you time and money.  At Padget Technologies, that's the way that we think and that's the way that we believe our partners should think.  Give us a call and ask about this new controller.  We would be excited to show what Padget Technologies and Kawasaki Robotics has to offer.